Little Saints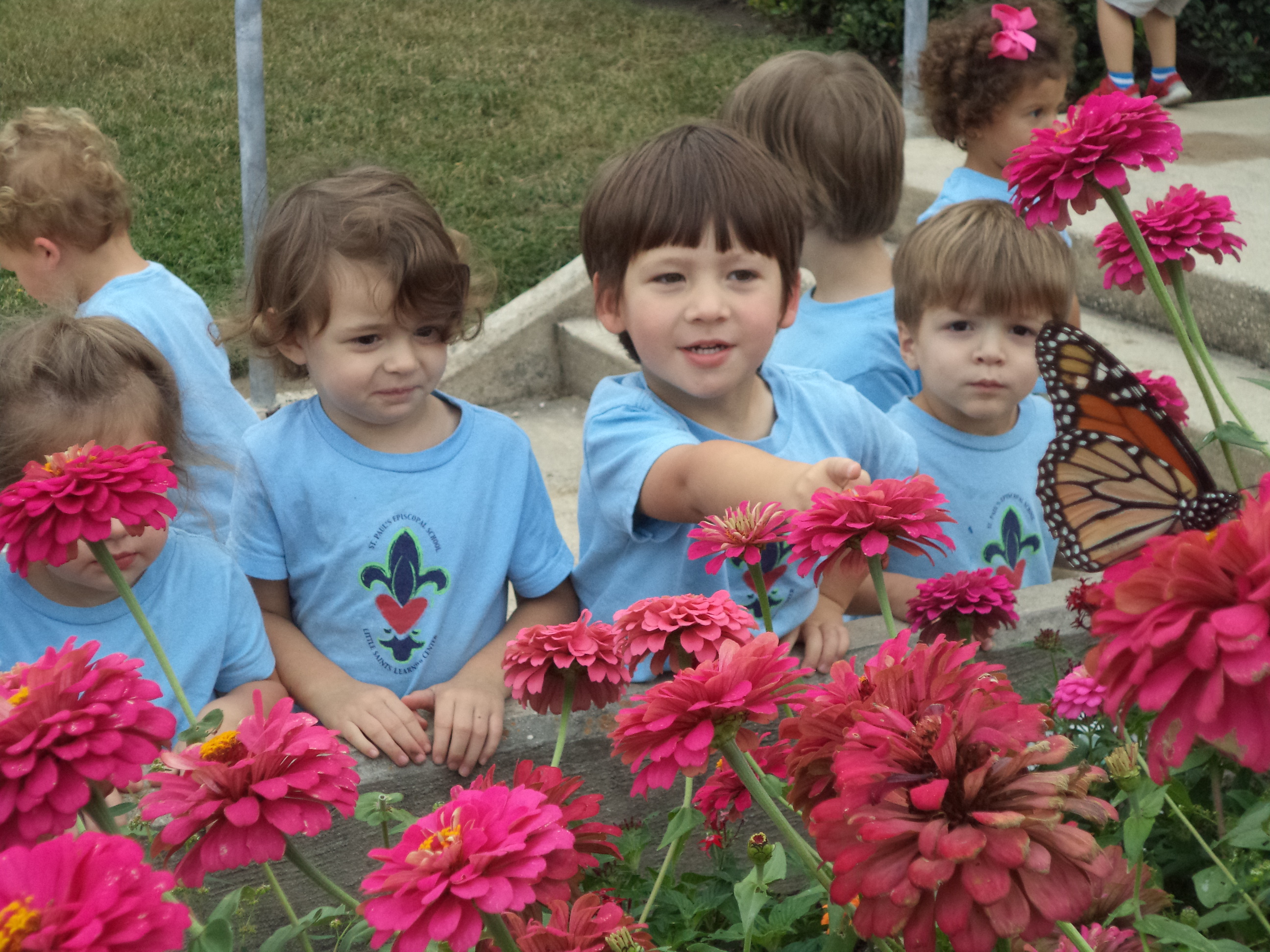 The St. Paul's Little Saints Two and Three Year-Old programs bring together parents, children, and teachers, as one, working to create a community of learners. Our supportive and nurturing environment encourages open conversation, verbal and non-verbal communication, positive and respectful relationships, and innovative learning and teaching.
Our goal is to foster a true love of learning through words, movement, dramatic play, building, drawing, painting, and discovery. Our teachers provide children with rich, meaningful experiences by integrating a wealth of materials into the curriculum and environment. Children are taught to celebrate their differences and value their unique abilities.
Curriculum
The Core Knowledge Sequence is woven within our curriculum. This sequence is a set of model guidelines describing fundamental competencies and specific knowledge that can provide for children a solid, coherent foundation for later learning. Along with this sequence, the Reggio Emilia approach and an education for sustainability influence our curriculum.
Communication
The Little Saints teachers and staff strive to incorporate parents into all aspects of our program. This is accomplished primarily through communication. Our team of teachers have therefore developed a variety of tools designed to provide open and ongoing communication with families throughout the school year.
Journals are posted daily for families which include pictures of the children as well as explanations of the children's experiences.
Weekly newsletters are provided for families which describe the children's activities and remind families of upcoming events.
Each child has a Memory Book which documents the process of learning through his or her work during Studio experiences.
Parent teacher conferences are held twice a year during which families and teachers engage in open conversation. Parents receive both written and verbal feedback on their child's development and progress.
Documentation Panels are posted in the classrooms which communicate to families the process of learning that has occurred during an investigation. Panels include children's work, children's words, explanations of activities and experiences, and pictures of the process.
Our Parent Boards and Parent Mailboxes provide families with information about special events as well as class announcements and reminders. Parents also receive class "mail" from both their children and the teachers.
Baby & Toddler Saints
St. Paul's is a loving and nurturing place for children of all ages. For more information about the Baby & Toddler Saints, please contact Melissa Pearson, Baby and Toddler Saints Coordinator, babytoddler@stpauls-lakeview.org.
Click here for Tuition, Fees, and Application Information
Click here for Important Forms & Information
Little Saints News
January 2017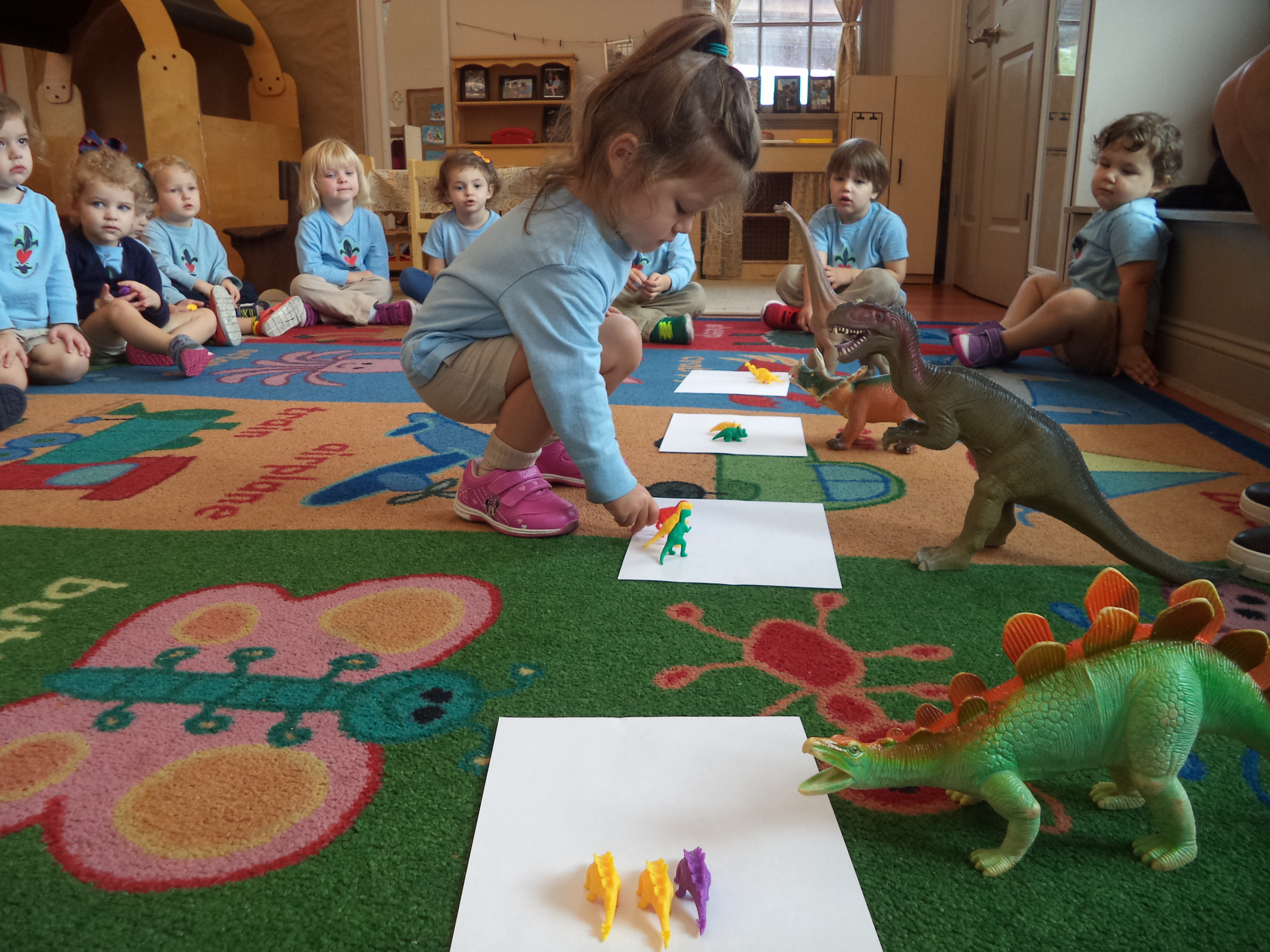 Dinosaurs have taken over our classroom! Our block area, sensory table, discovery center, and Lego table are all filled with dinosaurs. The children have been very excited about the new materials and have been incorporating them into their play. We have even heard dinosaurs roaring and stomping on the playground! During meeting times, the class has been playing a variety of math and language dinosaur games. They have pulled dinosaurs out of a mystery box and sorted them. They have placed dinosaurs on a certain shape. They have delivered dinosaurs to a friend, and they have voted on their favorite dinosaur using their name symbol. T-Rex was the winner with the most votes!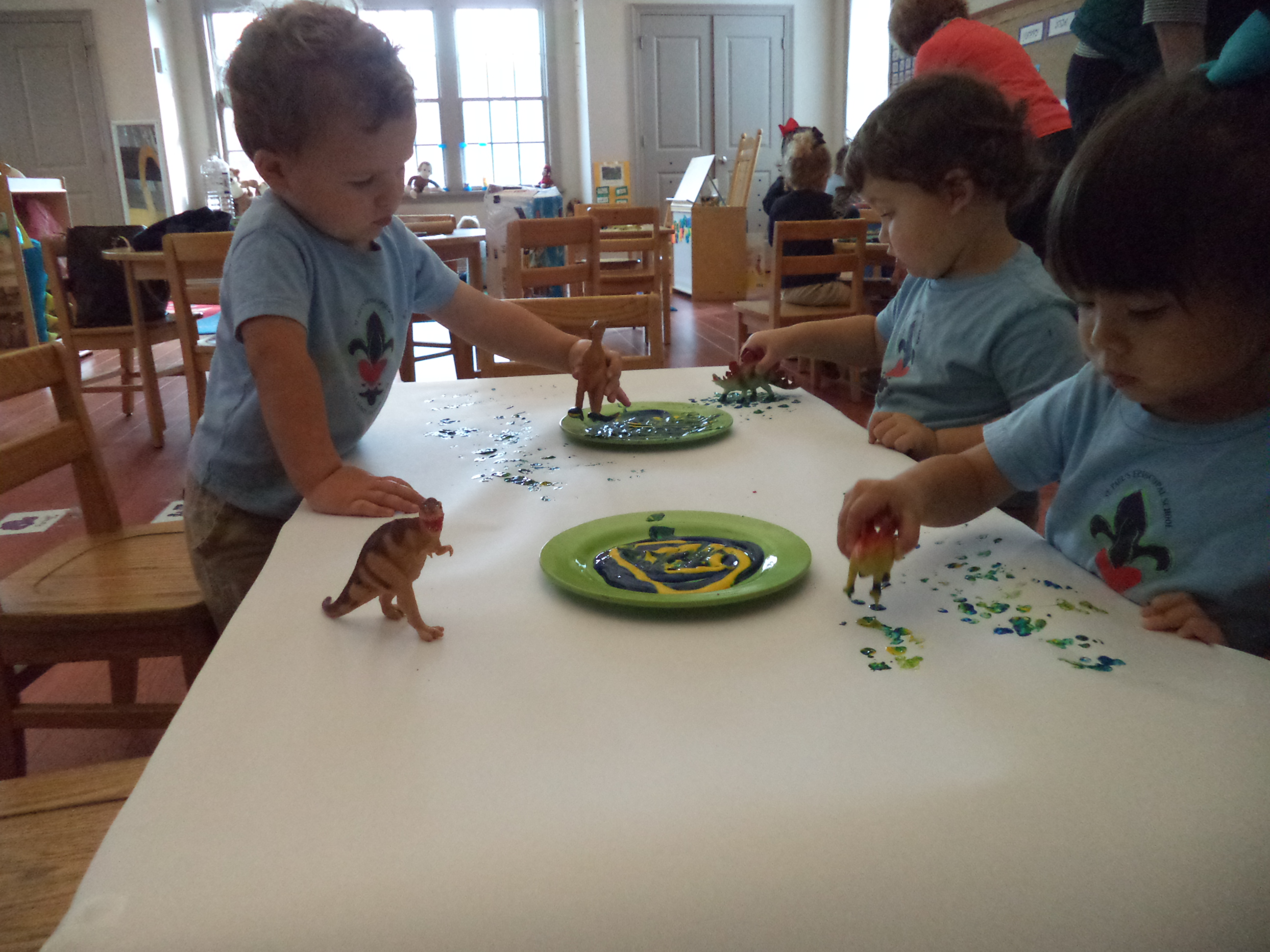 In the studio, the class used paint to make dinosaur prints. They also created "shape" dinosaurs. They first painted backgrounds using watercolors and shaving cream. They then collected mulch from the playground to represent rocks. The mulch was added along with volcanoes. The dinosaurs were also added after discussing the various shapes used to create a stegosaurus. Their work is hanging in the hallway!
In the discovery center, the children helped our dinosaurs "hatch." They used eye droppers and water to hatch (melt) huge eggs made of ice. They also worked with a teacher to combine vinegar and baking soda to make live volcanoes!
We added dinosaur tails and paleontologist hats to our house area. The children have LOVED them! They have been swishing their tails and wearing their hats all around the room!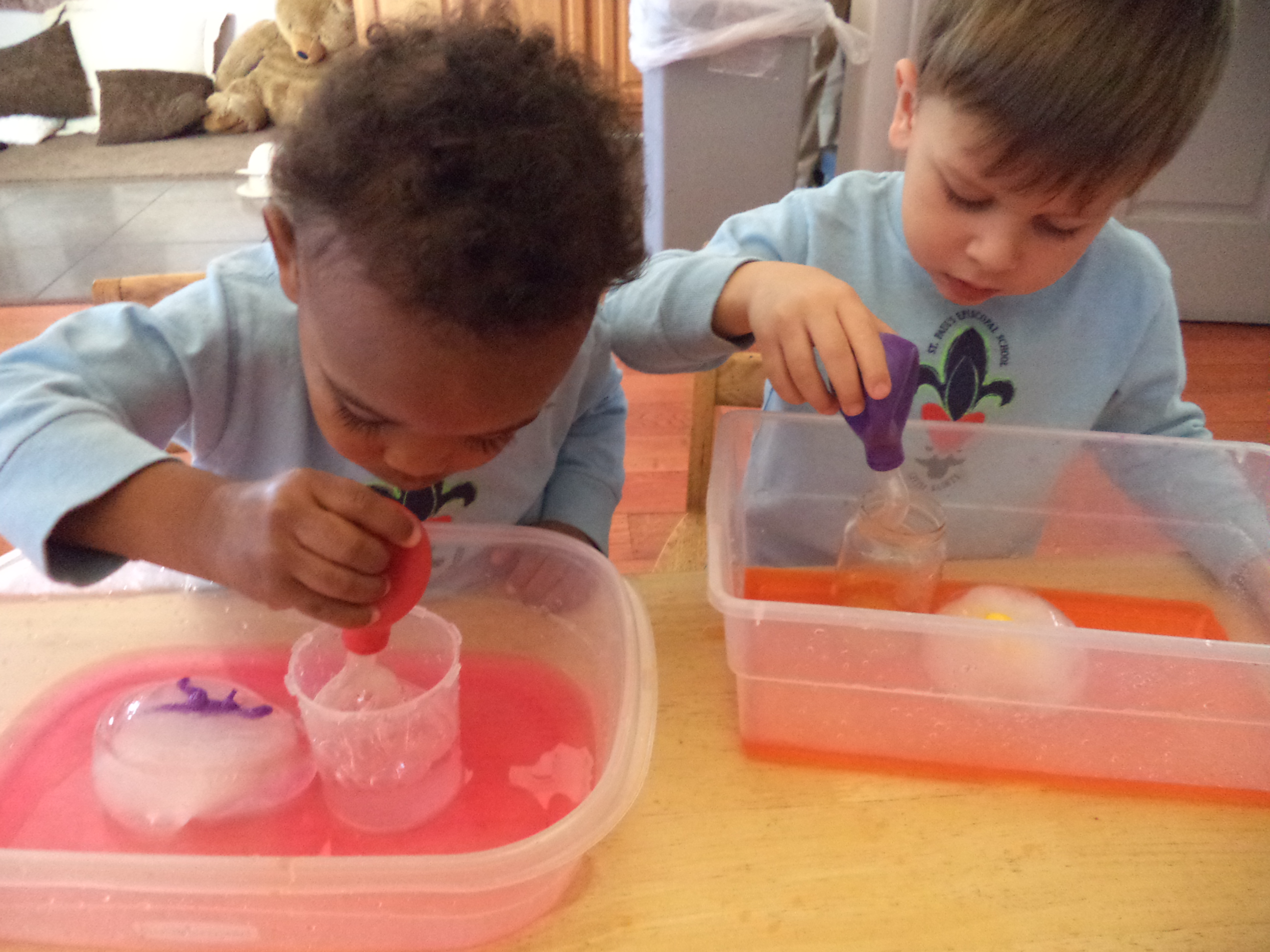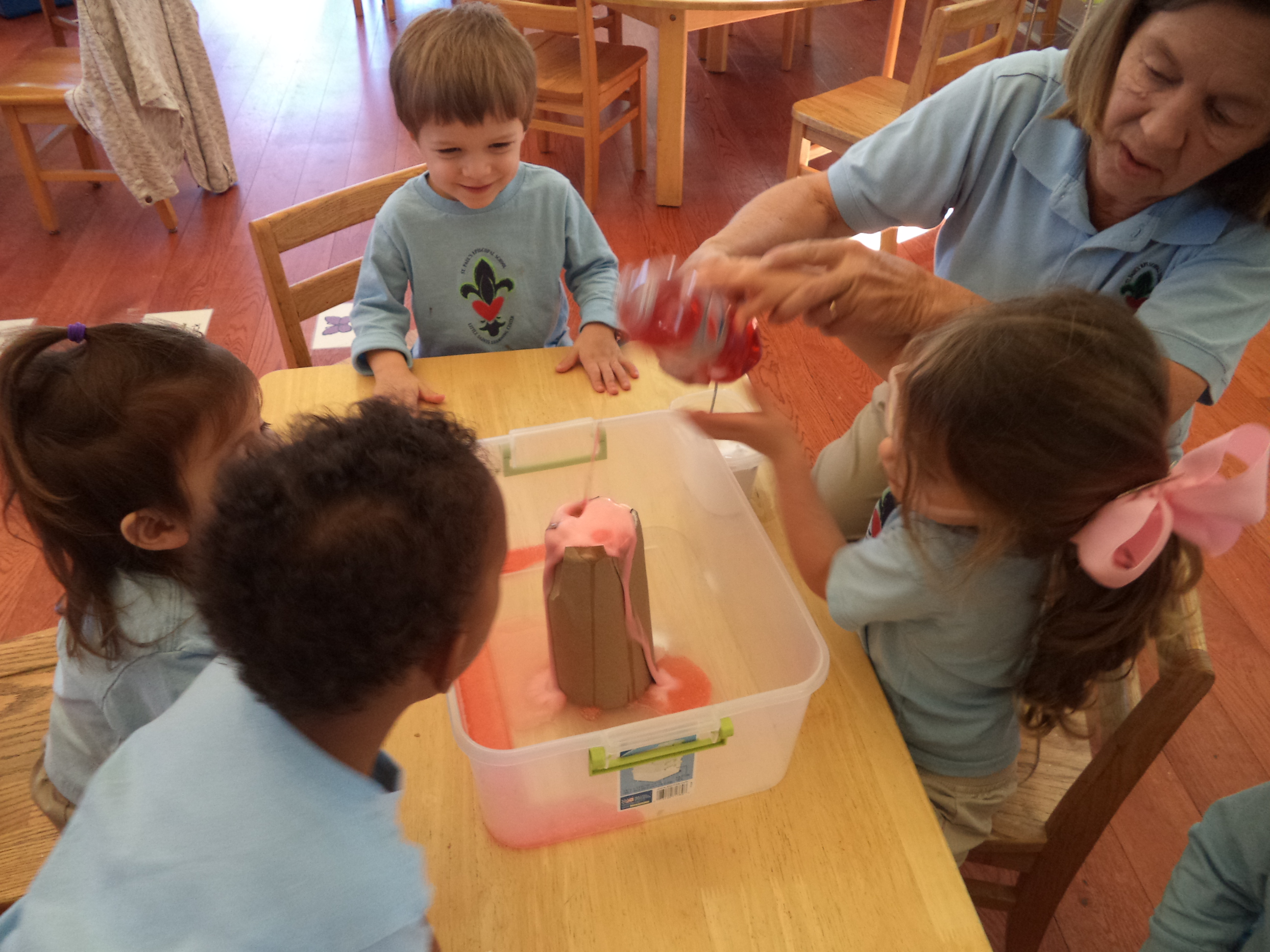 December 2016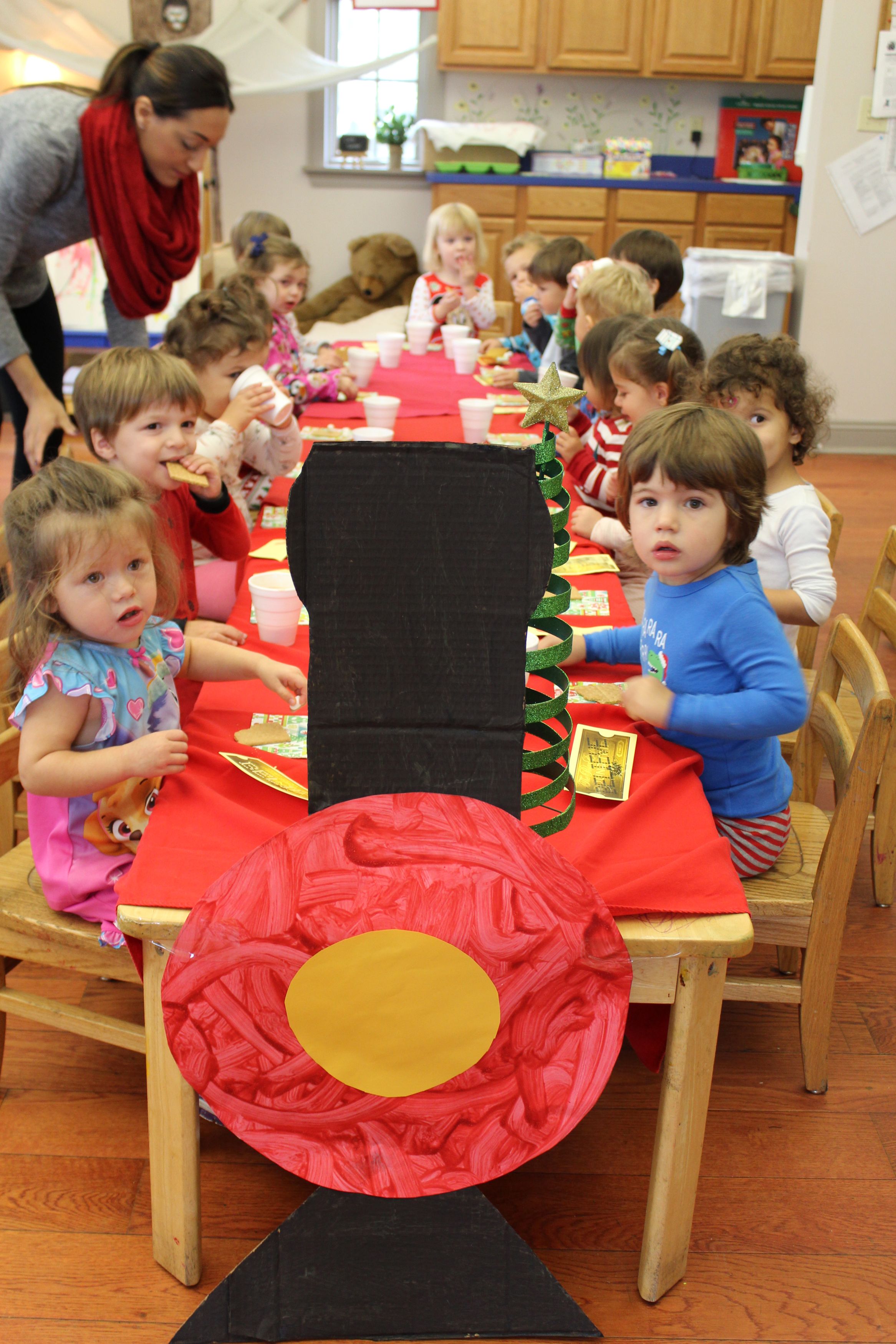 All Aboard!!!!
The Little Saints Polar Express arrived in the 2's classroom at the beginning of December!
All of the children were showing a great deal of interest and enthusiasm about our train table. The children were playing with and talking about trains. Their play involved connecting trains together, "fixing" pieces of railroad tracks, and identifying certain trains. Based on these observations, the teachers decided to bring the Polar Express to the classroom! We began by adding a snowy train scene to the block area. The scene included: trains, tracks, trees, mirrors, and little people. We added books about both trains and Christmas. The Little Saints helped paint all of the pieces and parts of the train so we could convert a piece of the classroom furniture into the Polar Express! The children really enjoyed sitting on the train with "hot chocolate" and stuffed animals. We also added conductor hats to our costume collection and train puzzles to our fine motor area, and we worked with train counters throughout the room.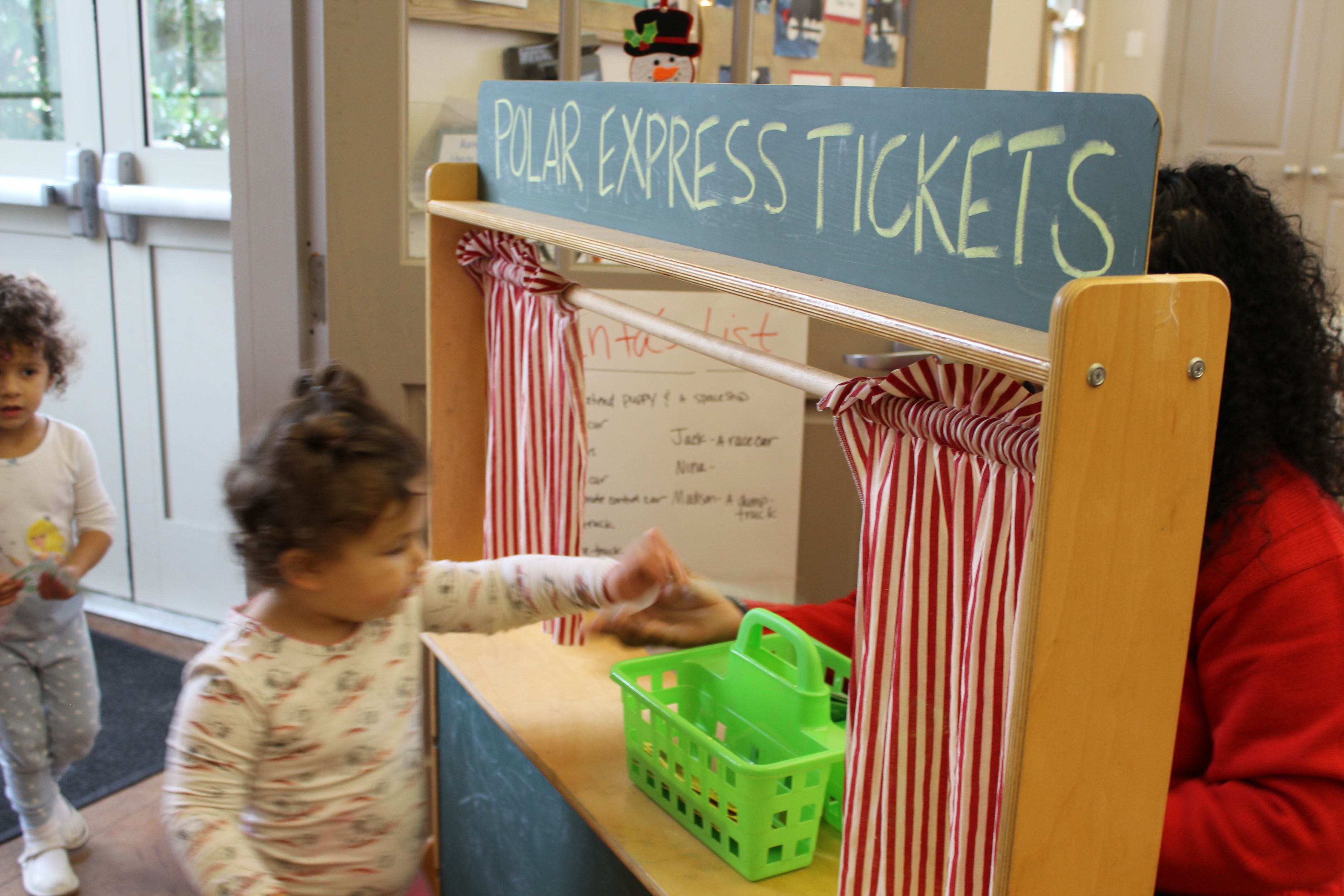 During our meetings we played many fun games involving the Polar Express. The children identified items to take on the train. They counted "money" to buy tickets, and they identified letters on tickets and matched the letter to a letter on their seat. We identified colored trains by placing them on a track, and the children added a certain number of marshmallows to "hot chocolate" to drink on the Polar Express. We even had the children deliver "tickets" to their friends using the name symbols. The teachers added a ticket booth by the Polar Express along with a cash register, play money, and golden tickets. The Little Saints had so much fun buying and selling tickets for a ride on the Polar Express! We incorporated trains into our songs, and we sang "Going on a Train Ride" and "Wheels on the Train."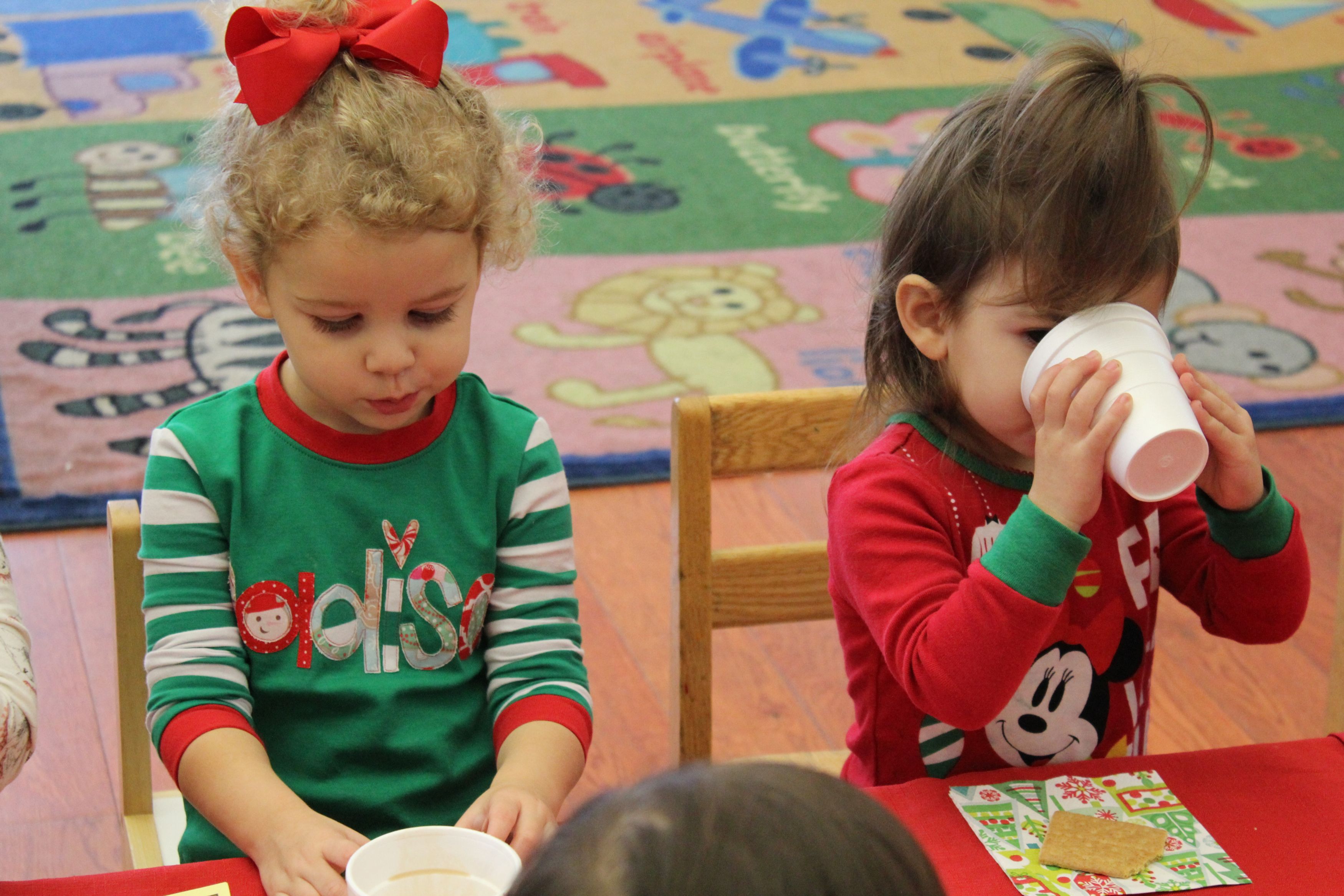 Other classroom activities included adding marshmallows to cups with tweezers and making edible trains with graham crackers, gum drops, and icing. These trains were a special treat! We listened to the book The Polar Express, and we enjoyed watching a short video of the ride on the Polar Express. At the end of our investigation the children all arrived to school in their pajamas!! Each child waited in line to purchase a ticket to board our classroom train. After receiving a ticket, they each took their seat. Hot chocolate, marshmallows, and graham crackers were served as they "rode the train." What a special day!
October 2016
Little Saints 3's Are out of This World!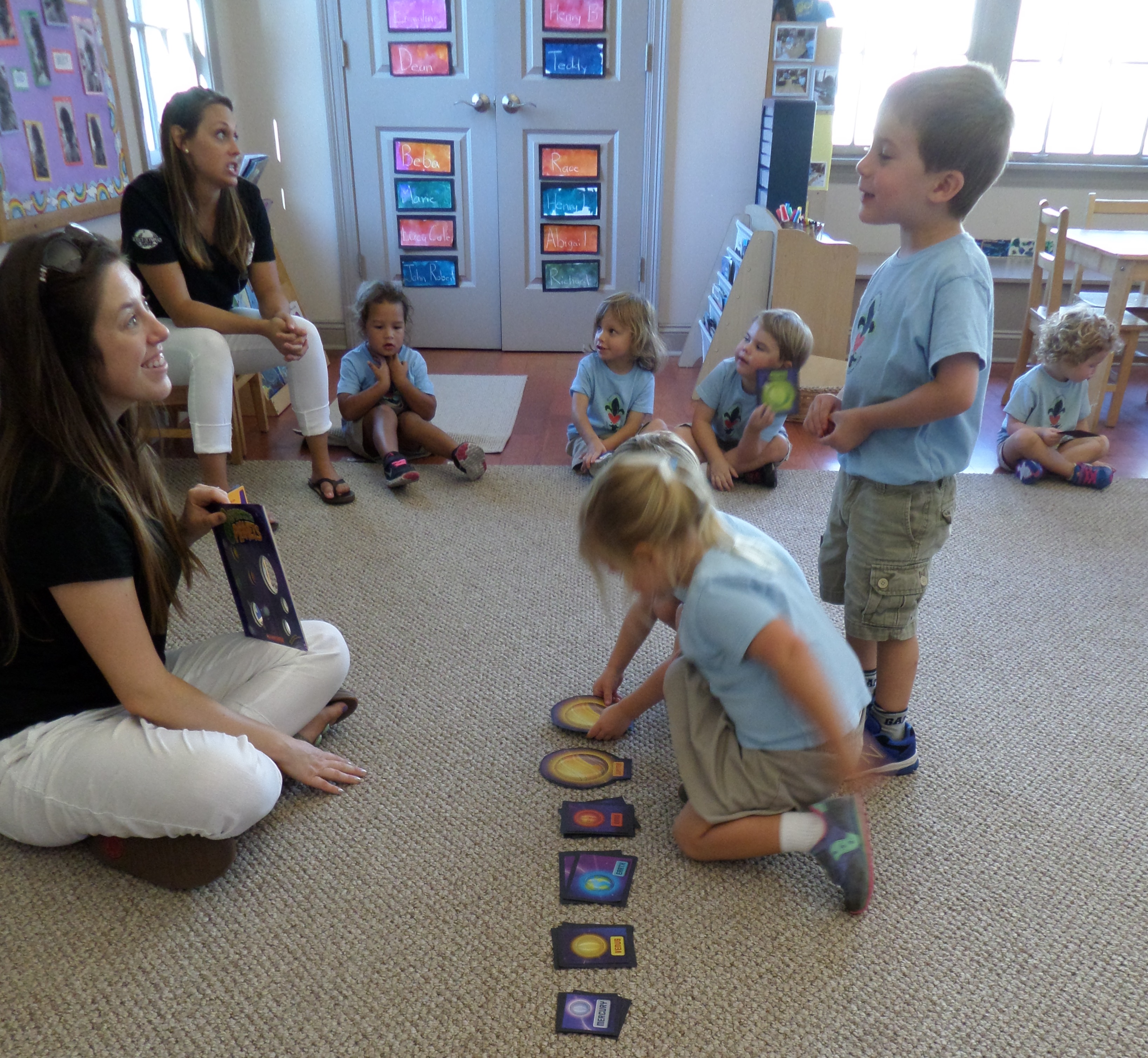 The three-year old class has blasted off into a space investigation!
The teachers noticed the students were very interested in several space books in the class library. As a result, they decided to have a group discussion to talk about what the class wanted to learn and what the class already knew about our solar system. After the discussion, it seemed like many of the little saints were interested in the planets as well as space travel.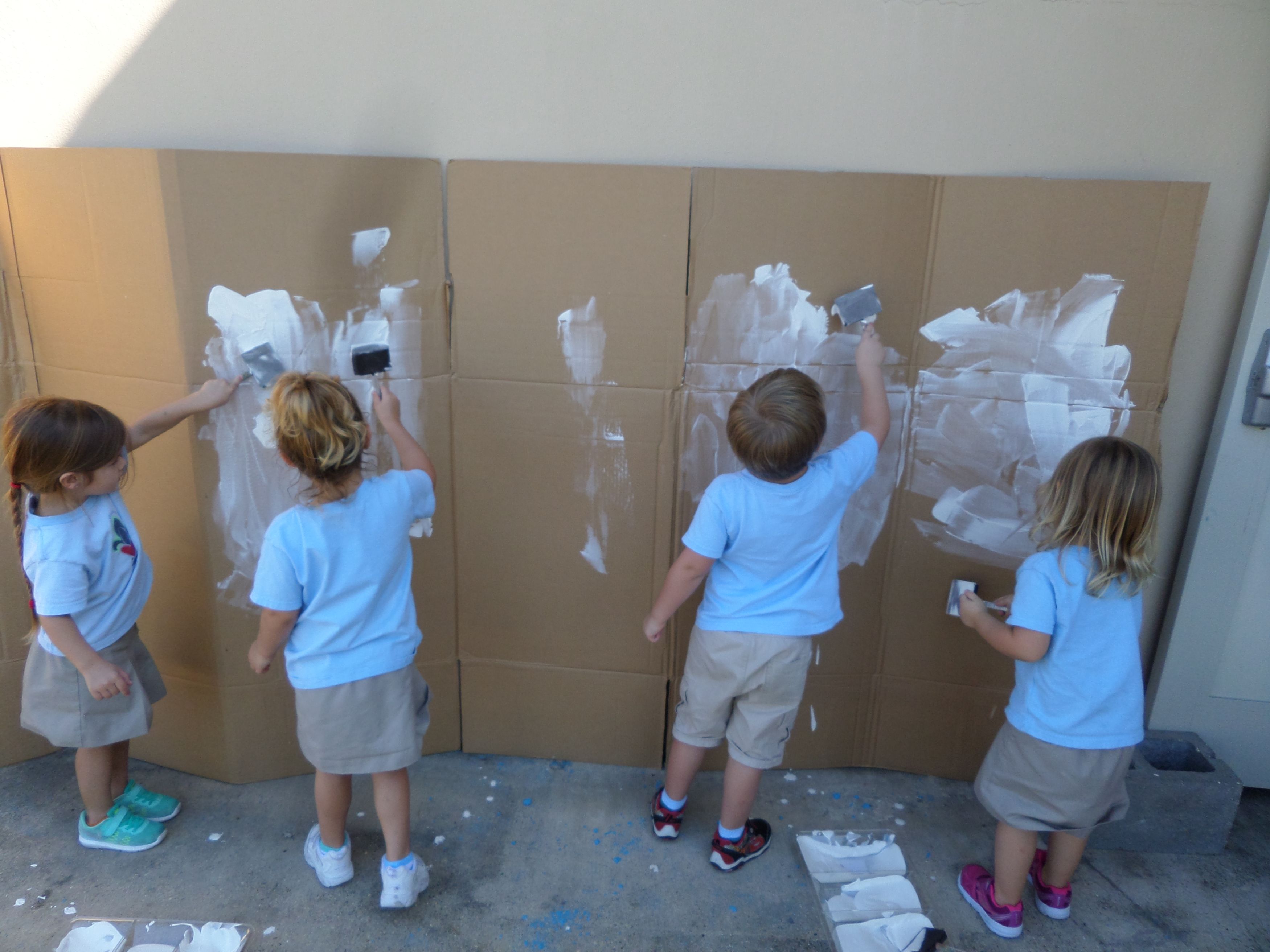 The class recycled some old pieces of cardboard by painting them white. The teachers helped the children tape them together into the shape of a rocket ship. They then covered part of it with foil to make it shiny, and they added NASA stickers. The rocket ship lives in the dramatic play area, and the little saints have had so much fun pretending to take trips to the moon and other planets!
In the studio, everyone mixed flour and paint together to make a textured material. They practiced painting (using this material) inside of a circle as they created moons. They added craters by stamping with a cork. Each child told their teacher how they thought the moon got its craters. "Someone took a log thing and poked some holes in it," said Emmaline. You can see all of their explanations along with their moons hanging in the hallway outside of the three-year old classroom.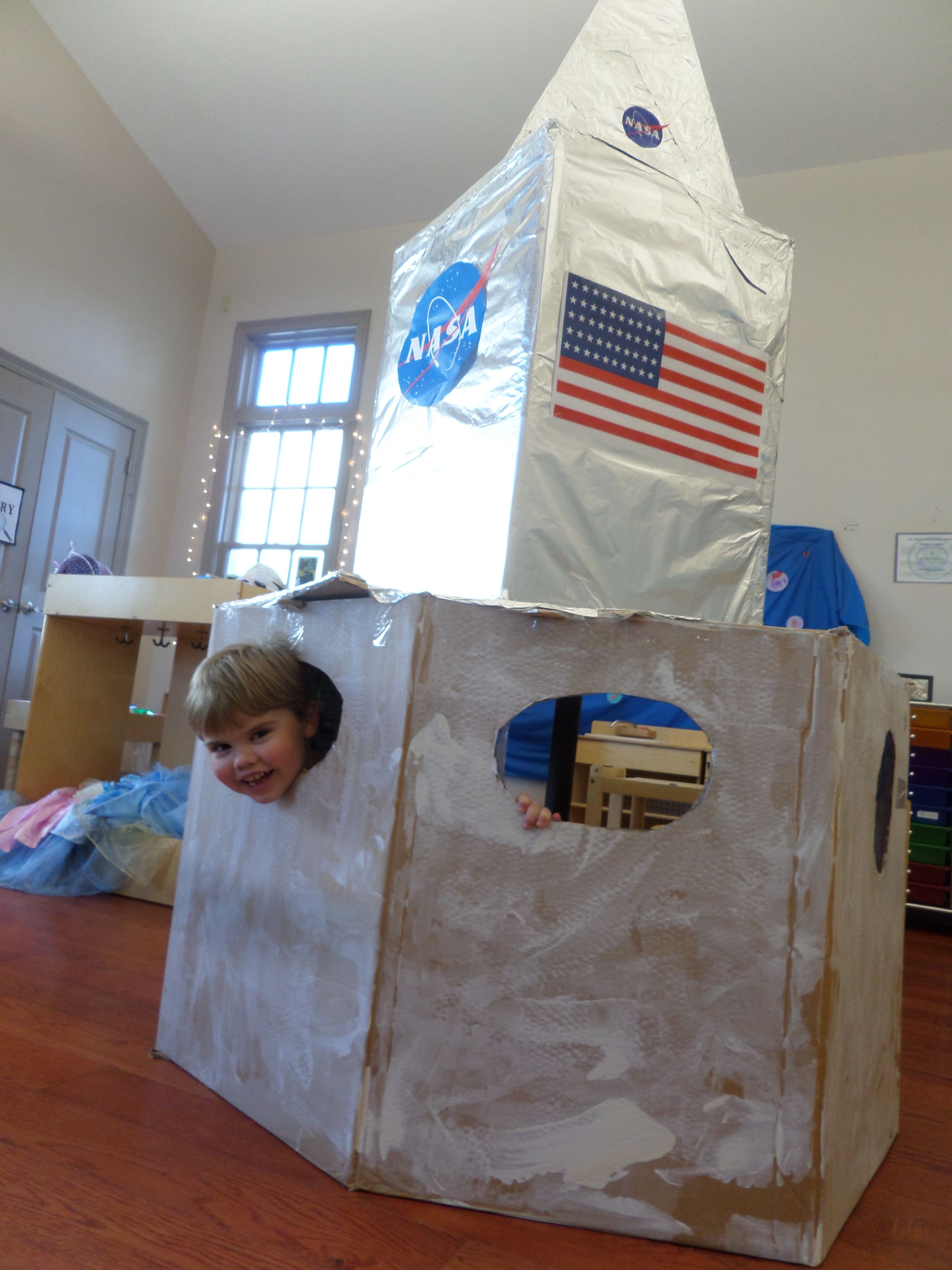 They have also been learning about the different planets in our solar system and what makes each one special. "My favorite planet is Jupiter because it is the biggest," said Ford. They even played a game where they each got a picture of a planet and had to place them in order from the sun.
The little saints are having so much fun learning about the Milky Way Galaxy. Feel free to come stop by and explore with us!
September 2016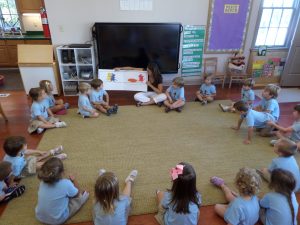 In both of our little saints classrooms, the year began with a lot of COLOR!
After reading Mouse Paint by Ellen Stoll Walsh, both classrooms extended the story throughout different areas of the classroom.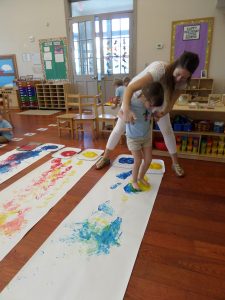 In the two-year room, the little saints identified primary colors. They then worked in the studio to mix the primary colors using a variety of materials. They combined shaving cream and water color, water and food coloring, and different shades of paint. They even worked with partners to combine colors. During meeting time, the two-year old class placed little mice (from the story) in different colored paint. They did a great job!! During story time, the little saints LOVED listening to the story using props. Many of the children used the props to retell the story during our project time.
In the three-year classroom, the little saints acted out the story in the studio! They pretended to be the little mice and danced in paint! They created yellow, green, and even purple! Their work is displayed all around their classroom. Many of the children extended their play to the discovery area. They used light table materials to create different colors. They also worked with the props from the story and retold Mouse Paint in small groups. They then read Little Blue and Little Yellow by Leo Lionni. This story involved both color mixing and friendship.
Please come by any time and mix colors with our Little Saints!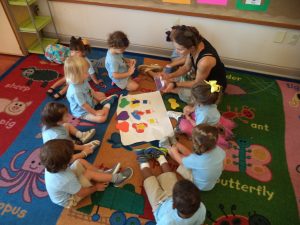 May 2016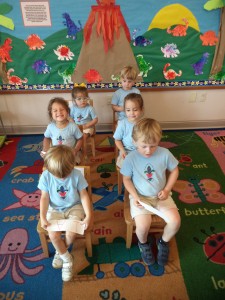 A HUGE airplane has landed in our Little Saints classroom, and the children have been flying all over the world! Their favorite places to travel have been Disney World, the beach, and the North Pole. The children have loved serving food on their plane as well as checking their passengers' tickets. The teachers have planned a variety of games around this interest. They have also led projects in the studio involving airplanes and changed materials around the room to reflect air travel.
During one meeting time game, the children were asked to "board the airplane." Each child received a ticket with a number and letter on it. After identifying the number and letter, the children matched their tickets to their seats on the airplane. During another game, the children were asked to pack their suitcases. Each Little Saint was given a description of an item to pack. For example, a teacher asked, "Please pack something you will wear to swim at the beach."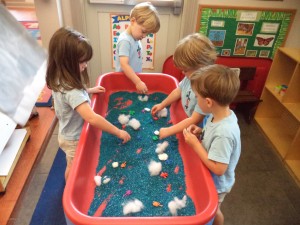 In the studio, the class has LOVED flying tiny airplanes through blue fluffy clouds made out of shaving cream and blue food coloring. They have also enjoyed making "biplanes" using Popsicle sticks, bright colored paint, and glue.
A shelf in our block area was converted into a runway, and our sensory table was filled with blue rice (to represent the sky), cotton balls (to represent the clouds), and small airplanes. All of the airplane materials around the classroom have enhanced the play among the children! Our next step will be to help our Little Saints name their airline.
If you are interested in taking a trip…please come visit our Little Saints!