Little Saints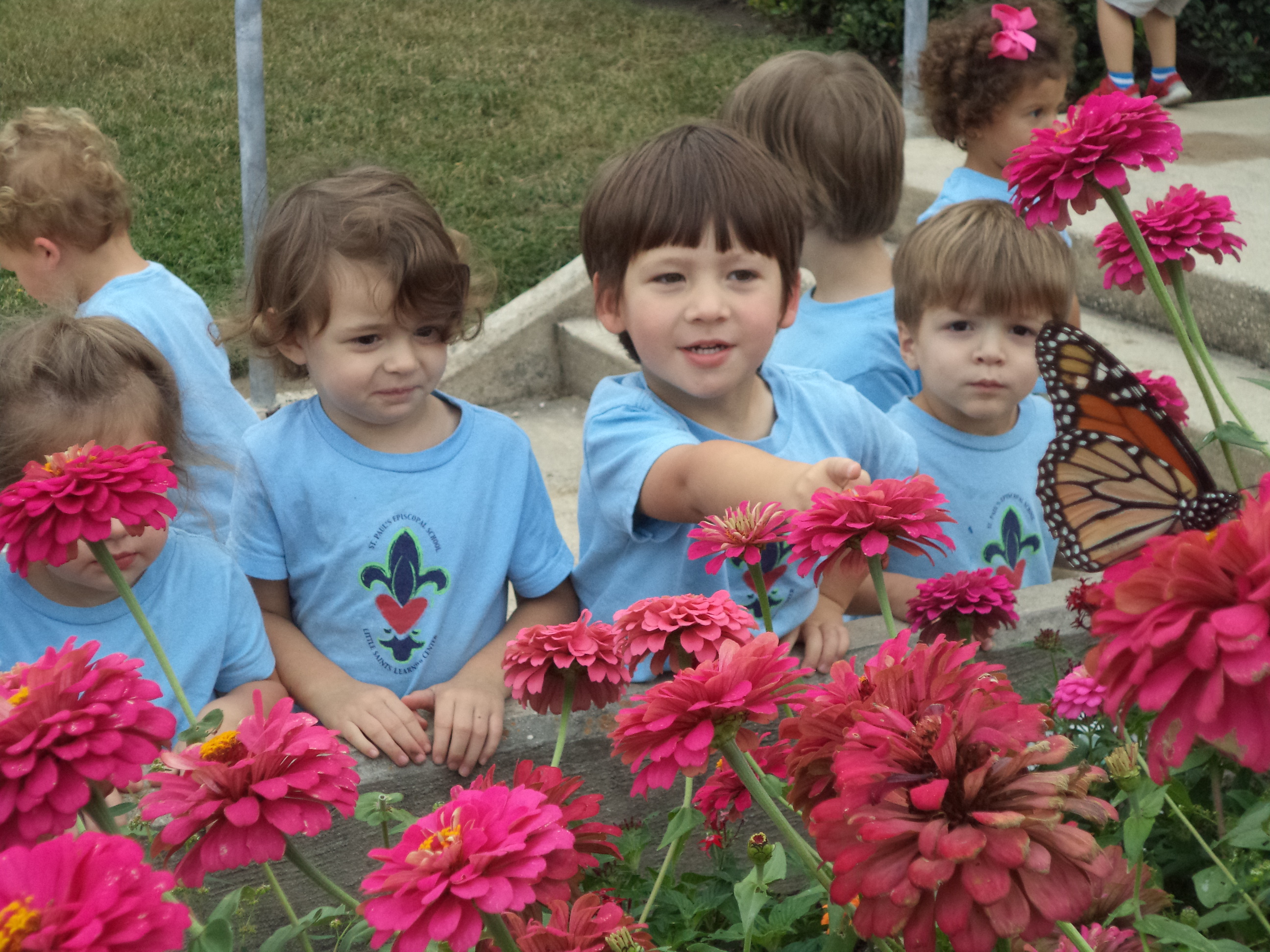 The St. Paul's Little Saints Two and Three Year-Old programs bring together parents, children, and teachers as one, working to create a community of learners. Our supportive and nurturing environment encourages open conversation, verbal and non-verbal communication, positive and respectful relationships, and innovative learning and teaching.
Our goal is to foster a true love of learning through words, movement, dramatic play, building, drawing, painting, and discovery. Our teachers provide children with rich, meaningful experiences by integrating a wealth of materials into the curriculum and environment. Children are taught to celebrate their differences and value their unique abilities.
Curriculum
The Core Knowledge Sequence is woven within our curriculum. This sequence is a set of model guidelines describing fundamental competencies and specific knowledge that can provide for children a solid, coherent foundation for later learning. Along with this sequence, the Reggio Emilia approach and an education for sustainability influence our curriculum.
Communication
The Little Saints teachers and staff strive to incorporate parents into all aspects of our program. This is accomplished primarily through communication. Our team of teachers have therefore developed a variety of tools designed to provide open and ongoing communication with families throughout the school year.
Journals are posted daily for families which include pictures of the children as well as explanations of the children's experiences.
Weekly newsletters are provided for families which describe the children's activities and remind families of upcoming events.
Each child has a Memory Book which documents the process of learning through his or her work during Studio experiences.
Parent teacher conferences are held twice a year during which families and teachers engage in open conversation. Parents receive both written and verbal feedback on their child's development and progress.
Documentation Panels are posted in the classrooms which communicate to families the process of learning that has occurred during an investigation. Panels include children's work, children's words, explanations of activities and experiences, and pictures of the process.
Our Parent Boards and Parent Mailboxes provide families with information about special events as well as class announcements and reminders. Parents also receive class "mail" from both their children and the teachers.
Baby & Toddler Saints
St. Paul's is a loving and nurturing place for children of all ages. For more information about the Baby & Toddler Saints, please contact our Baby and Toddler Saints Coordinator at babytoddler@stpauls-lakeview.org.
Click here for Tuition, Fees, and Application Information
Click here for Important Forms & Information
Little Saints News: Winter Update 2019
Music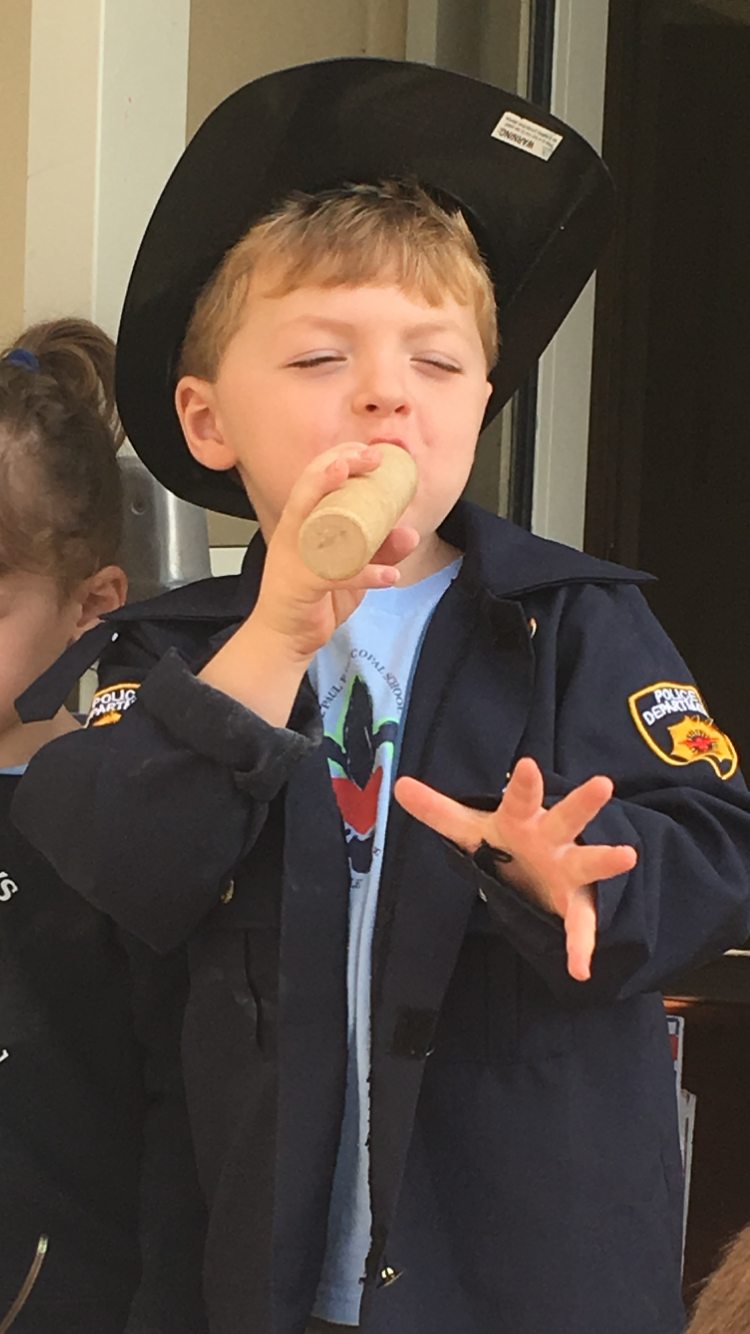 The Little Saints attended the Christmas tree assembly in early December. As part of the assembly, the St. Paul's Studio Band performed. The children were enamored with every aspect of this performance! They were amazed by the sounds of each different instrument and returned to the classroom eager to talk about what they had experienced! We had a group discussion to figure out what prior knowledge the class had and what they were interested in learning about music, instruments, and more. With excitement high, the teachers decided to integrate a music investigation throughout our curriculum.
During our whole group meeting times, we have been using different instruments to practice mathematical, language, and listening skills. We've practiced tapping patterns on a hand drum and with rhythm sticks. We also have compared different sounds by shaking and listening to eggs filled with rice, bells, Styrofoam, and more. We have voted on our favorite instruments and then tallied the votes to see which had the most and least. Some friends even went around the room conducting their own survey to find out which instruments were the class favorites. They recorded their answers by writing the first letter of each friend's name under the corresponding instrument. In our sensory table, we added rice and plastic eggs. Our friends have been using these materials to make maracas and shake them to music!

As a special treat, Mr. Thompson and the studio band invited the Little Saints to visit the media lab to learn more about the different instruments. Each band member introduced themselves and told us about the instrument they played. At the end of the show and tell, they played a song for us called "The St. Paul's Blues." We even got to meet the band members and take a picture with them!!! We are all so excited to continue to explore instruments and learn more about music!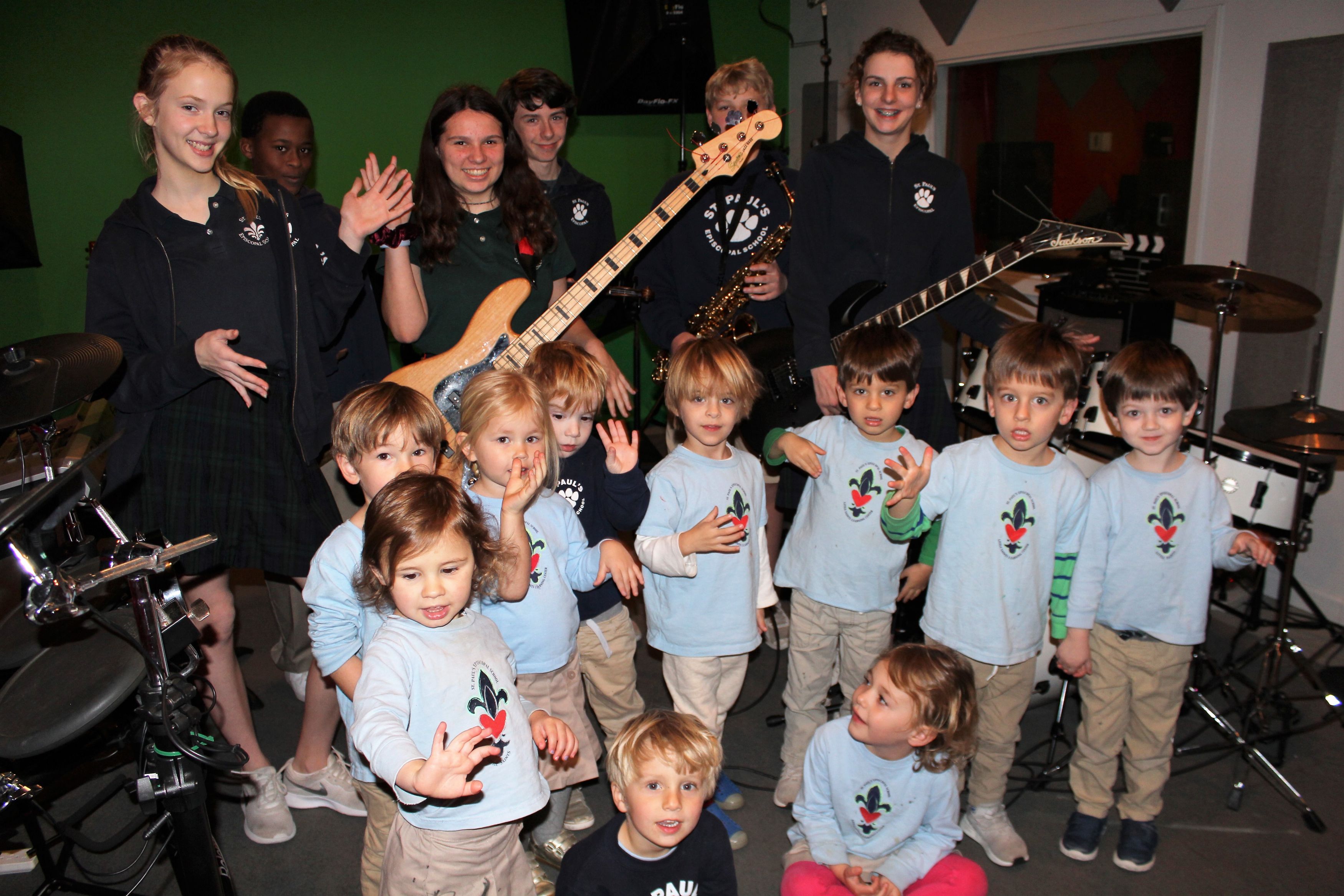 Little Saints News: Fall Update 2018
Construction Investigation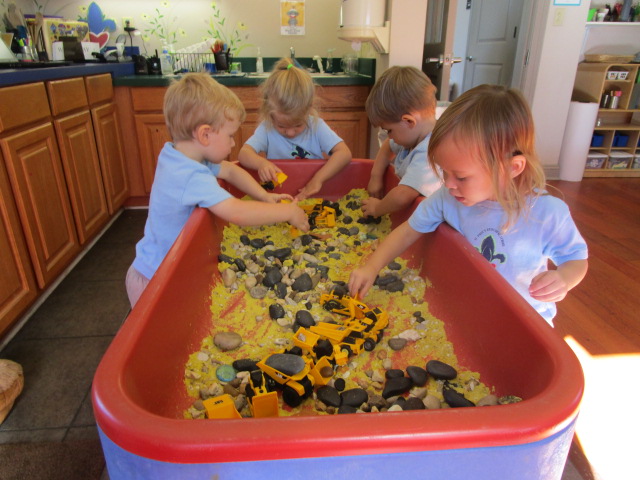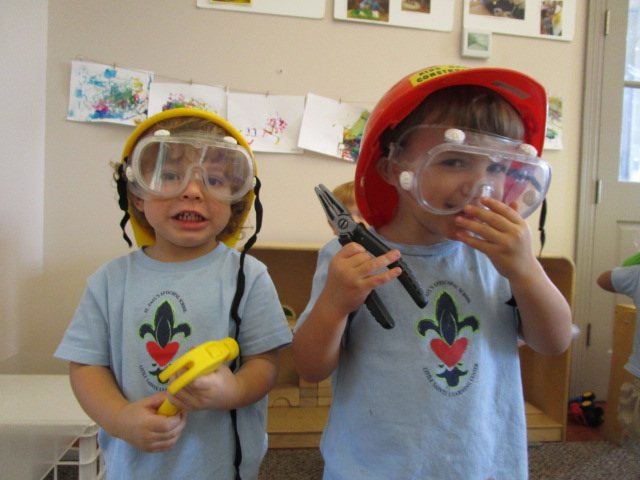 In an attempt to initiate an investigation, the teachers changed materials in a few of the areas of the classroom. They added dinosaurs to the block area and construction trucks to the sensory table. The majority of the class flocked to the construction area. They loved playing with the trucks and BIG rocks! The teachers also noticed a lot of "building" around the room. Because of this interest and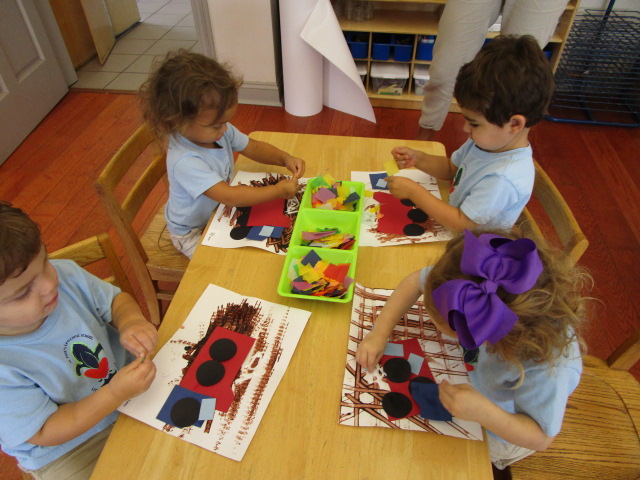 excitement, the construction investigation began!
Included are a few of the ways the teachers enhanced the investigation. In the dramatic play area, they added construction hats and vests. They converted the block area into a "job site" complete with a variety of tools, safety hats, goggles, and "building" blocks. Construction books were added to the language space. The teachers also taught the class the songs, "Johnny Hammer," "The Wheels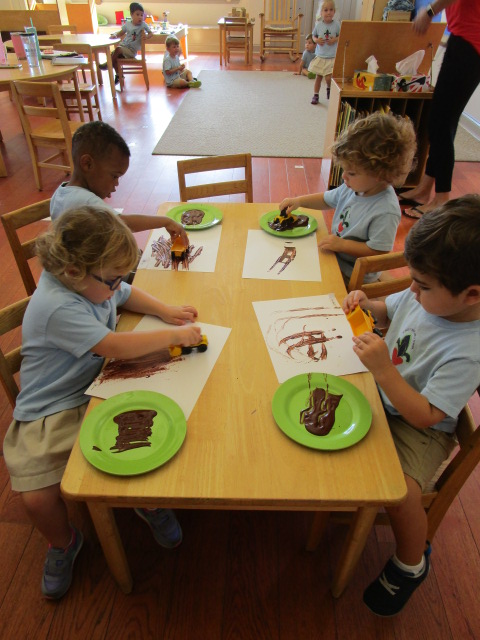 on the Dump Truck," and "Going to the Construction Site." In the studio the children created shape dump trucks, painted with construction vehicles, and worked with play-doh, hammers, and pegs.

The "House Project" was another exciting part of the investigation. Each child "built" their own house in the studio. The first part of the process was to ask each family to send in a picture of their home. The teachers talked to each child about their home and asked questions like, "Who lives in your home?" and "What do you have in your home?" Each child then painted their home with a real painter's paintbrush. The teachers then worked individually with each child to add the special features that makes their home unique.

As the investigation continues, our little construction workers remain hard at work! After talking with the children about things that they enjoy "building," the class voted on what to "build" in our classroom. The vote was among a house, a castle, or a school. The majority voted on a castle. Please come by and see our Little Saints as they help to construct our Little Saints castle!
---
Spring 2018
Our Little Saints are "Surfing Into Summer!"
Over the past few weeks, our two-year class has been engaged in a beach investigation. This investigation has included a variety of sand and fish filled projects along with many beach songs and games!

During our meeting times, the class has loved digging in the sand for letters, bowling for letters with a real beach ball, and feeding letters to a VERY hungry shark! They have also enjoyed counting and sorting a variety of sea creatures.
In the studio the Little Saints had fun making "real" surf boards. The teachers took a picture of each child pretending to surf and made a fun display for our families. The class also loved painting with shaving cream and sea creatures, making crab handprints, and using colorful tissue paper to create rainbow fish.
Our sensory table has been filled with sand, sifters, and sea shells, and our block area has turned into an OCEAN. It is filled with various types of sea life, boats, and buckets.

"Going on a Beach Trip" has been a favorite song in our classroom. The children love singing about different items to bring to the beach. The items include goggles, hats, sunscreen, beach towels, and, of course, a bathing suit.
Another favorite area of the classroom has been our "reading pool." The reading pool is a real pool where two friends can "swim" quietly while reading a book.
As our beach investigation comes to a close, we reflect on what the children have said and loved as a result of all of the beach activities. It is clear the beach is a time of excitement filled with family and friends!

Little Saints Open "The Cakery Bakery"
The Little Saints three-year class recently welcomed faculty and staff to the grand opening of their restaurant, "The Cakery Bakery." After an exciting, fun-filled cooking investigation, the students worked hard to open a bakery of their very own! From naming the bakery, to making the food, to serving the customers and cashing them out, the children were in charge of everything!
The investigation began when the teachers noticed the children pretending to make birthday cakes and other goodies in our dramatic play area and out on the playground. Interest quickly spread, and the teachers helped expand the investigation into all areas of our classroom. From making dough in the sensory table, to conducting bakery themed surveys in the message center, to counting pretend money at our cash register in the dramatic play area, excitement continued to escalate!
After a group discussion, we decided we should take suggestions and vote on a name for our bakery! We practiced sound spelling and writing words when we created our menu and invitation in small groups. Then we walked all around the school passing out our hand-drawn, hand-written invitations! We voted on two items to serve at our bakery and then got to work making and baking these menu items! Each child learned to make ice cream in a bag. They chose between chocolate and vanilla and then helped measure and mix the ingredients. Lastly they used their whole bodies to shake the ingredients with ice and rock salt and watched as the liquid cream turned into a frozen solid ice cream! We also made mini rainbow cupcakes. Each child visited the studio and iced a cupcake using each color of the rainbow.
On opening day, the children donned their hand-made chef hats and got to work. They greeted and served each of their customers with prideful smiles! After waiting on the customers, they brought them to the cash registers to check them out! Once the bakery cleared out, the Little Saints were able to enjoy the fruits of their labor and taste their delicious treats! It was a fun day for all involved!
Fall 2017
Little Saints as Garden Helpers
Every morning in our classroom Ms. Rachel calls our Little Saints garden helpers to the back door to tend to our garden needs. They begin by first selecting a watering can and then lining up to fill their cans with water. After watering our three beds, they return their cans and then begin assessing their crops. They love to discuss with one another if their plants have grown or if they are still "little bitty."
Our three garden beds contain tomatoes, broccoli, cauliflower, Brussel sprouts, and lettuce. The excitement over the gardens has continued to grow as our plants have continued to grow!
The Little Saints have patiently awaited harvesting their crops. Before the break, we began the process by harvesting our broccoli. Everyone had the opportunity to feel it and then taste it! We will now harvest our cauliflower and tomatoes.
The class will also vote on their favorite vegetable after tasting everything.
We are so proud of our Little Saints! They have worked so hard as our garden helpers!
Little Saints as Shoppers and Chefs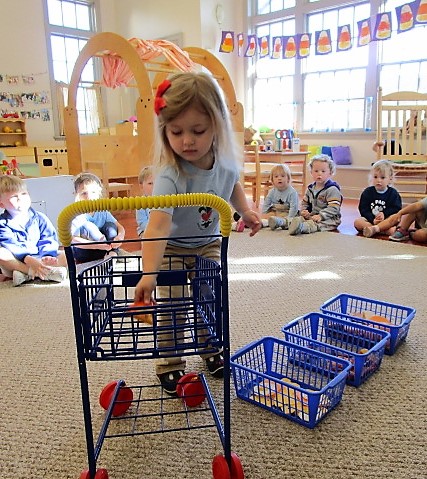 Since the start of school, the Little Saints two-year-old class has enjoyed cooking and serving food in the house area. They have even extended their play outside by cooking with bowls, scoops, and spoons in the mulch! The teachers felt it would be exciting to further explore food and cooking with the class and began by "building" a Little Saints grocery store in the block area! They wanted to help the children understand the concept that you have to purchase food before you begin cooking.
The teachers asked families to bring in their child's favorite food boxes and/or cartons to help stock the grocery shelves. They also added a grocery cart, cash registers, and money to help enhance their grocery shopping experience.
Before opening the grocery for business, the teachers looked at pictures of real grocery stores in our area with the class. Every child shared with the class where they do their shopping with their family. They teachers also designed games to help teach the class how to use the materials in the store. For example, each child had a dollar. They used their money to "buy" an item and then check out with the cashier (the teacher). They also helped identify pictured items on a grocery list to add to their basket.
Since the grocery store has opened, the Little Saints have not stopped shopping! They LOVE their grocery.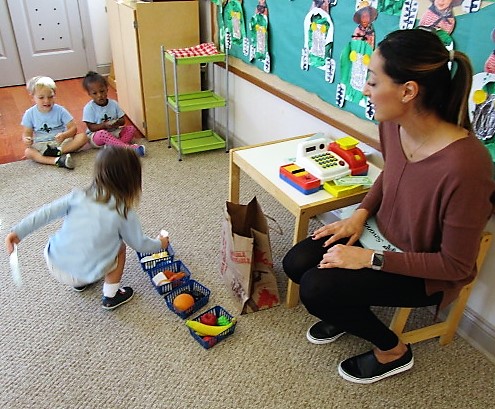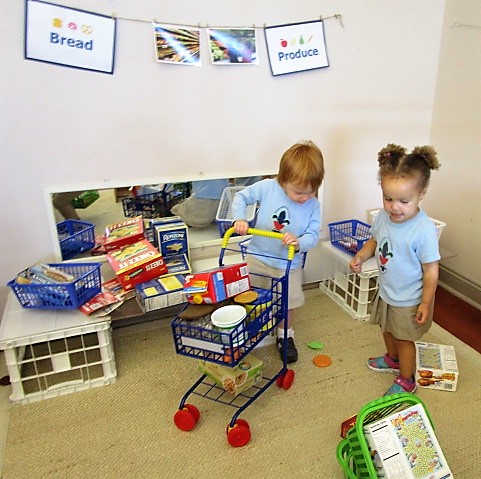 Our next step in the investigation was bringing food from our grocery to the "kitchen" to start cooking. The class made REAL pizzas to eat for our snack! The children spread sauce on an English muffin and then sprinkled cheese all over their pizza. Some children added mini pepperonis. The teachers toasted the pizzas, and then everyone enjoyed their mini-pizza snack!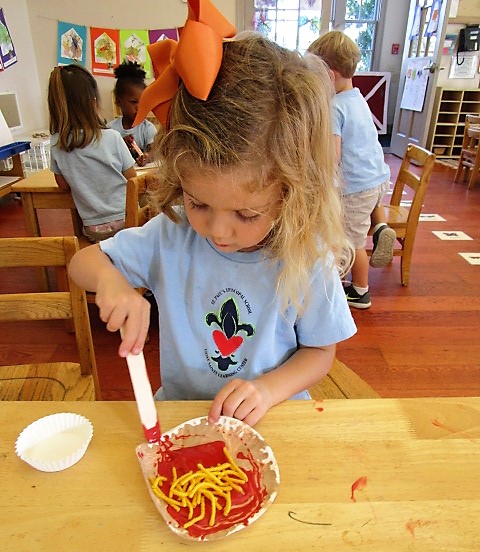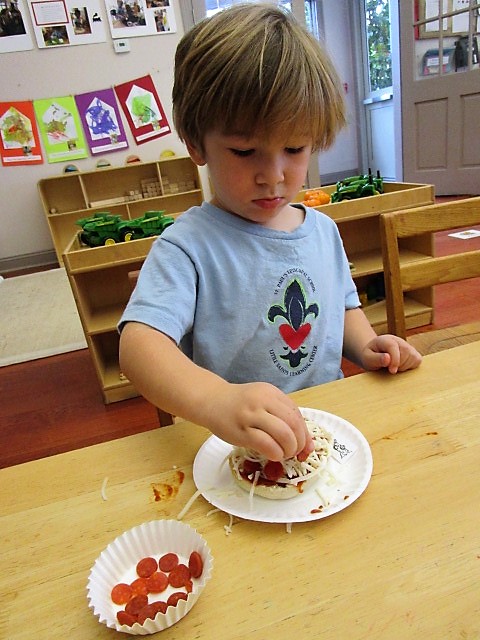 The children also made pretend pizzas to serve their friends. They painted a paper plate with dough colored paint. They then spread the "sauce" and added cheese (yarn) and pepperoni (construction paper).
As this investigation progresses, we will continue to document the children's experiences. Come by and see our Food Investigation Documentation Board underway. Our grocery is also always open for business!