Program
Little Saints Learning Center
A program for 2-year-olds and 3-year-olds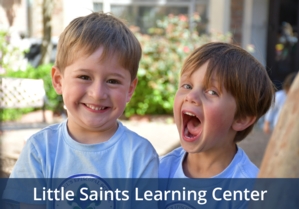 Our goal within our Little Saints classrooms is to foster a true love of learning. Our teachers strive daily to provide our children with rich, meaningful experiences. They have created an environment that is supportive and nurturing. There is a wealth of materials that are incorporated into our classrooms which enhance play, communication, and discovery.
Our dynamic curriculum is composed of three parts: The E.D. Hirsch Jr. Preschool Sequence, the Reggio Emilia approach, and education for sustainability. Our Little Saints enjoy Spanish, music, P.E., as well as Chapel on a weekly basis. There is also an outdoor education component woven within daily activities.
Communication is an important piece of our program. Our Little Saint parents receive daily journals and newsletters about their children's school day experiences. Documentation panels fill our walls. Panels include pictures of the children involved in their play, their words, their work, and the thought process of our teachers.
This is just a small glimpse of what our program has to offer. Please attend an Open House event or request a private tour of our Little Saints classrooms! I would love to show you our school and answer any questions you may have about Little Saints.
Edie Martinez, Director of Little Saints
(504) 488-1319
emartinez@stpauls-lakeview.org
Lower and Middle School
Pre-K through 8th Grade
At St. Paul's we believe each child should be engaged in a continuous process of self-definition and discovery. We offer children opportunities to grow academically, emotionally, socially, physically, and spiritually in an environment in which "taking risks" is safe and comfortable. We strive to develop the whole child through a hands on, project-based, age-appropriate curriculum which stresses core academic subjects and the following: sustainability and outdoor education; service learning and community service; enrichment subjects such as art, music, religious studies, foreign languages, technology, and physical education all in an environment that is inclusive, diverse, and familial.
Fostering life-long learning and academic success are our goals. In order to achieve these goals, students must be able to think critically, demonstrate good character, communicate effectively, collaborate with people of all ages, and exhibit cross-cultural competency. These are skills imperative for the 21st century global citizen. These skills will help ensure St. Paul's students become life-long, joyful learners.
I invite you to learn more about St. Paul's – read through our admission information, search our website, visit our Open House events, request a tour of our safe, secure Lakeview campus, talk with our teachers, students, and parents. Explore the possibilities that await your child at St. Paul's Episcopal School in Lakeview!
Sylvia Parks, Director of Admissions and Community Programs
(504) 488-1319