Why Choose St. Paul's
A Few Good Reasons to Choose St. Paul's Episcopal School: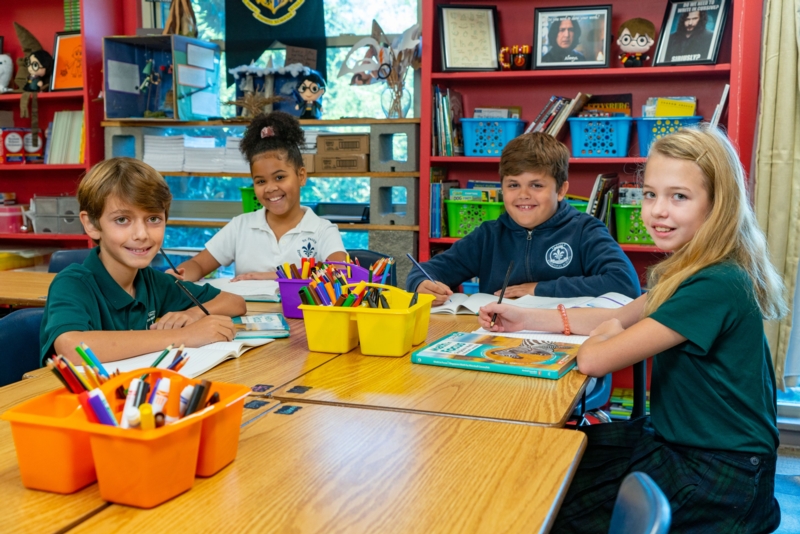 A student/teacher ratio of 8:1
Episcopal tradition of academic excellence, inclusiveness of all faiths, and spiritual values
St. Paul's graduates are accepted to the top high schools in the area.
Hands on, project- based curriculum
A solid foundation in the core subjects featuring a spiraling sequential curriculum which meets the social and physical needs of children
Ample time for play
After-school athletics and extra-curricular activities
Educating for environmental, cultural, and economic sustainability through our award-winning SMART and SEECK programs
Outdoor education
Innovation Station
State-of-the-art studio lab
State of the art lower school building
Spanish and Latin
Character development program
Service learning and community service
Eighth grade leadership program
Impact of co-ed opportunities for real life social skills
Social, emotional, and educational advantages of a Pre-K through 8th grade school
High school credit may be offered for middle school subjects.
St. Paul's Episcopal School is an independent, co-ed day school serving students from 6 weeks old through 8th grade. St. Paul's provides excellence in academics and enrichment in an inclusive, diverse, family-oriented environment.
There are many advantages to a Pre-K - 8th co-educational grade school:
The continuity of teachers, classmates, programs, and expectations appears to enhance academic, social, and emotional development for students leading to greater academic achievement and improved self-esteem and confidence. (Rand Study, 2006, and National Middle School Association Study.)
Programs like St. Paul's Panther Pals, where a younger and older child are "buddied," provide an opportunity for younger children to model their older pal while encouraging the older student to be empathetic, caring friends.
The St. Paul's experience provides middle school students with age appropriate activities and events. Middle school students may take on leadership roles, but at the same time they can be themselves and not influenced by social pressures often found in high schools.
Students' interests, strengths, and talents are defined during the middle school years. High school choices are more easily determined by the time they are in eighth grade, and the student is better prepared to have a voice in selecting the school.
Co-ed schools, especially elementary schools, provide children core opportunities to collaborate, problem solve, and work in groups with students of the opposite sex, including helping to deepen their character development, self-awareness, and the reinforcement of crucial themes between genders such as respect, fairness, and empathy.
Attending a co-ed school provides the perfect experience for children and young people to face the challenges of the real world and be better prepared and equipped to handle daily life issues.
Change in ninth grade is good. Students are well-prepared to make new friends, accept new challenges, and make a smooth transition into high school.
The eighth grade experience allows students to be the school leaders, the ones that the others look up to.
Finally, students have a feeling of satisfaction and accomplishment in completing the program and receiving a diploma. It can truly be said, job well done!
Call for a private tour: (504) 488-1319