Annual Fund
"We get the best of the best."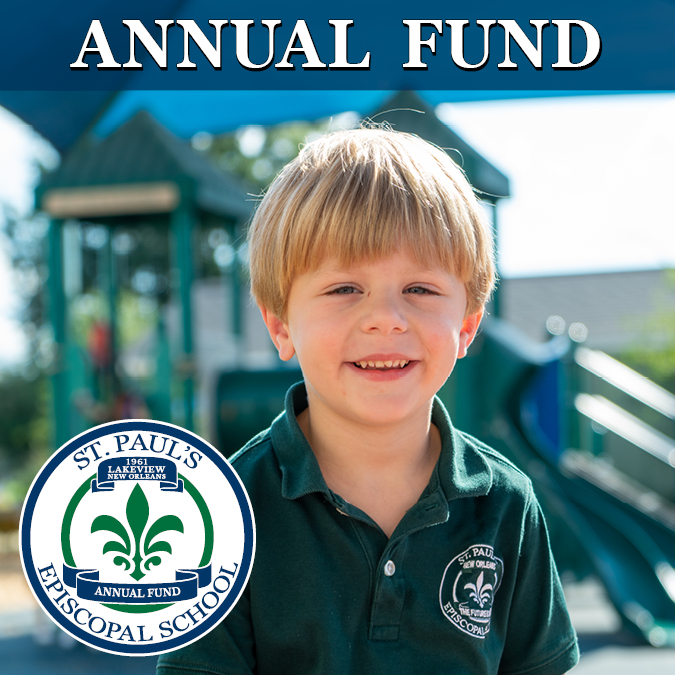 Your gift to the Annual Fund campaign enhances every aspect of a student's education at St. Paul's by
ENCOURAGING LEADERSHIP
EMBRACING SPIRITUALITY
SPARKING CREATIVITY
EXPLORING POSSIBILITIES
We hear it from our alumni: how a St. Paul's experience prepares students for success in higher education and beyond.
We see it in our students: the impact of a nurturing environment and the sense of connectedness that is not offered in a larger school setting.
It's the
SMALL CLASS SIZES
TALENTED FACULTY
INNOVATIVE CURRICULA
CUTTING EDGE TECHNOLOGY
AND INSPIRING ARTS & ATHLETICS PROGRAMS
that make our school community special and make our students prepared for life.
St. Paul's is a unique place that combines an intimate nurturing environment of a small school with top-quality academics. However, tuition alone doesn't cover the full cost of the exceptional St. Paul's education. The school relies heavily on additional support through the Annual Fund. You may ask, "Why should we contribute to Annual Fund?" and here's why. The annual fund bridges the gap between what tuition pays for and additional operating expenses. It helps pay for the advanced curriculum, classroom supplies, faculty salaries, technology, studio band, chapel, athletics, visual and performing arts, and much more.
For all these reasons we are asking for support from the parent community. We ask you to make a fully tax-deductible gift to St. Paul's Annual Fund. The Annual Fund helps provide professional development for faculty, quality technology, low student-teacher ratio, and enhances academics.
Each year, we count on loyal parents, alumni, and friends like you to make a meaningful gift that expresses the value you place on the educational experience offered at St. Paul's Episcopal School. No matter the size, every gift makes a difference.
If you would like to make a gift by check, please make payable to St. Paul's Episcopal School & mail to:
St. Paul's Episcopal School Annual Fund
6249 Canal Blvd.
New Orleans, LA 70124
If you prefer to pledge a gift to be made in installments, please download the pledge form and send it to Tiffany Tandecki, Development Director. All pledges are to be fulfilled by June 30, 2021.